Execution
At the UNO's College of Business Administration I teach an Operations Management class. It's a class every business major is required to take and one of those everyone dreads. It's not that the subject matter is difficult but more the amount of information that is covered.
The class is what is commonly called a survey class, covering a broad array of topics that are indicative of an entire career field or industry. This class in particular covers subject areas like process improvement, Lean, Six Sigma, project management, capacity planning, forecasting, and even the ever so sexy inventory management. Despite the plethora of subjects, the running theme throughout the course is the concept of execution.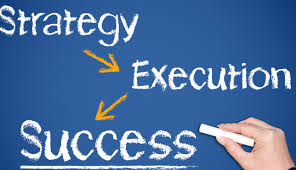 Many businesses offer a great product, sometimes even a superior product but they fail in their ability to execute. They are not able to get the product to market in an efficient and consistent manner to garner enough revenue and ultimately profit. Precisely why the best product doesn't always win.
I recently gave a book to our coaching staff by Michael Simpson entitled Unlocking Potential. A great read throughout which Simpson derives coaching skills that help to transform people and organizations. One of the 7 he highlights is what he calls Flawless Execution.
We all fancy the idea of setting goals. It easy and pretty fun actually. We sit down with great ambition, eyes set on the peak of some mountain and all the gusto to start making that climb. Words hit the paper with ease creating a clear road to success. And then….nothing.
Sound familiar? With the end of the year rapidly approaching it's a ritual practiced almost as religiously as the holidays that precedes it. This isn't unique to our failed resolutions. Corporate USA is just as plagued by the inability to execute.
CEO. Just look at the term, Chief Executive Officer. It bears the very word calling for plans and policies to be put into effect. It is the position responsible for execution! Yet, executive level leaders across board are proven to be just as guilty being unable to execute their strategic plan. Unfortunately, it costs their companies more than just carrying around a few extra pounds.
Our plans always look great on paper, don't they? It is easy to fall in love with them too. Simpson very appropriately points out "The more a leader falls in love with his or her strategy, the more they will underestimate what it will actually takes to achieve it." Grant Cardone similarly urges with his 10x Rule that one must take actions that are 10X greater than what is believed necessary to achieve your goals; "taking massive action is the only way to fulfill your true potential."
Set goals and make plans but temper them with understanding the amount of work it's going to take to get there is likely more than you think. Strategist Michael Porter's perspective is best as "it is better to have a B strategy with a Grade A execution than the other way around." Set a goal and viciously attack it placing everything secondary to it. Constantly evaluate your effort as being productive or simply being busy. A perfect plan on paper is perfectly worthless when there is no execution.
Everyday Is Training Day – Reap What You Sow